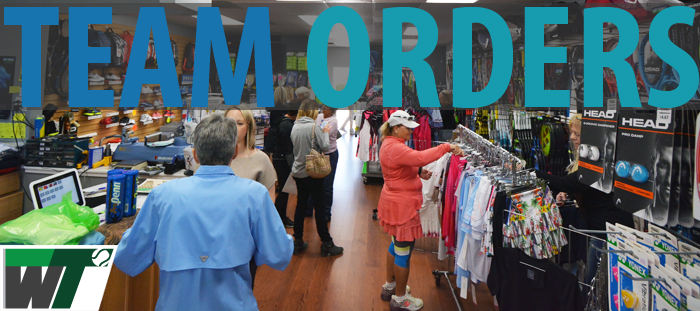 At Wrigley's Tennis, we do team orders a little bit differently! If you are contemplating buying ready-to-ship apparel for your team – please consider our method instead! We place team orders for upcoming collections, to ensure that your team can get the pieces that you need. Often if you are buying items that are ready-to-ship you will struggle to outfit your entire team as pieces and sizes run out.
Multiple times per year we attend industry clothing shows and hand-pick the best upcoming collections for our customers. We then setup a "team day" and invite representatives from local teams to view samples from the upcoming collections. Orders are placed via catalog direct to the manufacturer and upon arrival your team is notified for pickup.
Be sure to join our mailing list so that you are notified when important ordering dates are approaching and team days are scheduled.
FREQUENTLY ASKED QUESTIONS:
Do we receive a team discount?
Yes. The discount varies by manufacturer but is generally 25%-30% off retail price.
What do we do if a piece doesn't fit properly?
We order additional pieces for teams to exchange sizes. We will do everything that we can to find a piece/size that works for you in your collection. If we are unable to find a piece that works, the full amount paid will be refunded in the form of a gift card.